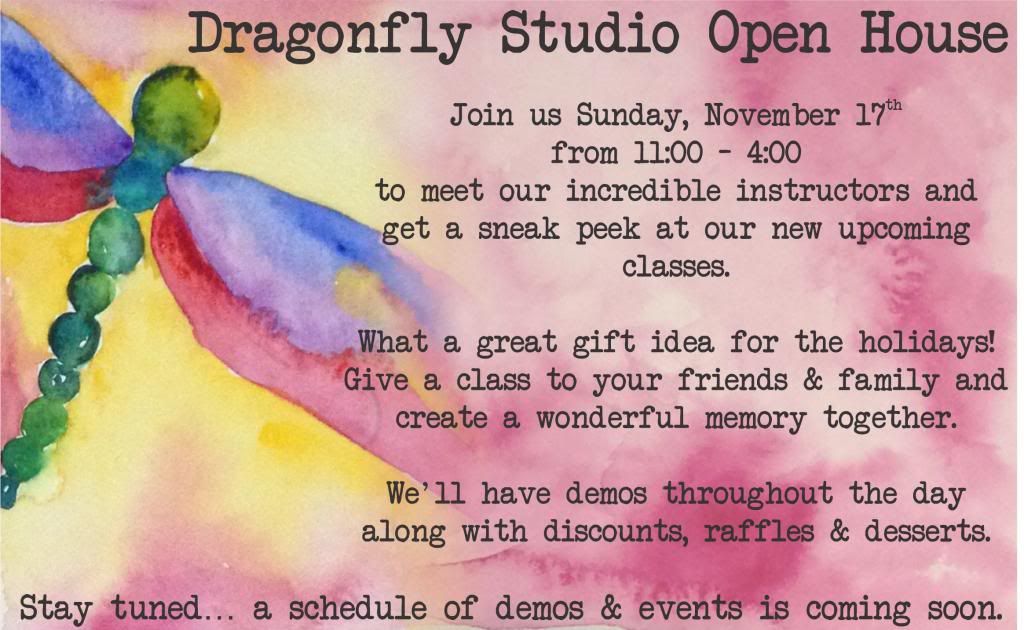 Dragonfly Studio Open House
Join us Sunday, November 17th from 11:00 – 4:00 to meet our incredible instructors and get a sneak peek at our new upcoming classes.
What a great gift idea for the holidays! Give a class to your friends & family and create a wonderful memory together.
We'll have demos throughout the day along with discounts, raffles & desserts.

Schedule & Discounts may be updated daily.
Schedule of Demos:
11:30 ........Window Painting
12:00 ........Succulent Containers
12:30..........Miniature/Fairy Gardens
1:00............Mosaic Tiling
1:30............Green Smoothie Demo
1:30............Glass Plate Flowers
2:00............Tussie Mussie Magic
2:00...........Self Defense Demo
2:30...........Picture Embellishment
3:00...........Beading Basics
3:30...........Rice Cooking
All Day.........Essential Oils
All Day........Floral Design
All Day.........Ceramics
All Day.........Beading


Instructors & Discounts:

Erna - Art.................................................buy 1 get 30% discount on 2nd class
Dani - Miniature Gardens...........................no class fee
Kim -Mosaic Tiling......................................20% off class fee
Debbie - Flower Pics...................................10% discount
Lola - Scrapbooking...................................10 % off Materials or Class
Anne- succulents........................................buy one class, get one free
Beth Davidson-beading...............................20% off class fee
Frances - Rice cooking..............................discounted cookbook
Patricia - floral arrangements......................buy 1 get 20% discount on 2nd class
Robert - ceramics.......................................10% off classe fee
Susie - Art with Kids ...................................20% off class fee
Terrell - Self Defense..................................take $10 off self defense class
Christi - Green Smoothies & Healthy Snacks....take $5 off each class


---



Location:


Dragonfly Shops & Gardens, 260 N. Glassell Street, Orange, Ca 92866

Export: